Quick Works Wellness, LLC : (804) 363-5721| quickcoach4U@aol.com | also visit:
The Lemonade Coach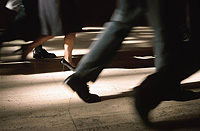 Welcome to

Quick Coach Solutions

for Your Life, Business & Spirit

Subscribe to my mailing list and get  FREE e-book

"The Astonishing Power of Gratitude."

Let's face it.  We live in a fast paced society.  The Digital Age has made us instantly accessible and time to reflect is at a premium.

Everything is quick, quick, quick.  We've gone from snail mail to e-mail, from phone calls to instant messaging, from reading a book to "hearing" a book.

Yet, you have major decisions to make.  To make a career move or not, to take that job or not, start, move or close a business, accept the marriage proposal, ensure that God is first in your life.  The list is endless.

You don't have weeks and weeks and months and months to devote to an

on-going coaching program, yet you would love to work one-on-one with a coach.  You're not looking for a total life makeover.  You're just looking for a makeover for a day, an hour, or even a minute!

Wouldn't it be nice if you could cut to the chase quickly, make your decision and move on to the abundant life that has been promised you?

Well, NOW YOU CAN with the

30-Minute Mental Makeover!

In 30 minutes, using powerful spiritual attraction techniques, you will begin to get clarity that has you taken days, weeks, months or even years to get for just $45. 

Questions? Call me at (804) 363-5721 or

INTRODUCING the "30-Minute Mental Makeover" from Paula Quick, Reflexologist and Spiritual Hospitality Coach. Experience a mental makeover in 30 minutes with this Quick Coach Solution consultation!
This page was last updated: March 23, 2009
LIKE THE IDEA OF HAVING YOUR OWN

PRIVATE QUICK COACH SOLUTION? 

Here are some other ways you can use the on-going

Quick Coach Solution -- your secret weapon for mass abundance, fulfillment and happiness:

~Problem-solve   ~Brainstorm creative ideas   ~Get unstuck & stop procrastinating   ~Prepare for a presentation  ~Polish a project  ~Get pumped for an important meeting   ~Overcome a fear   ~Support you during a tough day   ~Perk you up  ~Calm you down   ~Quick question  ~Find the right words  ~Sudden crisis

You can call up to three times a month ~ as needed

Calls of up to 20 minutes each are encouraged.

Just $125 for the entire month!  Think of of these sessions as a "mental  manicure, "emotional pedicure" or spiritual "massage."  Aren't you worth it if means finally helping to create the magnificent life you deserve and desire?

"Now to him that is able to do exceedingly abundantly above all that we ask or think, accordingly to the power that works in us to him be the glory. (Ephesians 3:20)

GIVE ME 30-MINUTES AND I WILL GIVE YOU BACK A WORLD OF HOPE, DREAMS AND ASPIRATIONS ...

THESE ARE SOME OF THE RESULTS PEOPLE HAVE EXPERIENCED FROM COACHING WITH ME:

Started a real estate school

Received $4000 in unexpected money

Expanded her business presence into another geographical region

Experienced a peace and calm she had not felt in years

Increased her connection with the Holy Spirit

Expanded her on-line Internet presence

WHAT WILL BE YOUR SUCCESS STORY?






Still not sure you I can help you?

Gift Consultation!